Institute Management software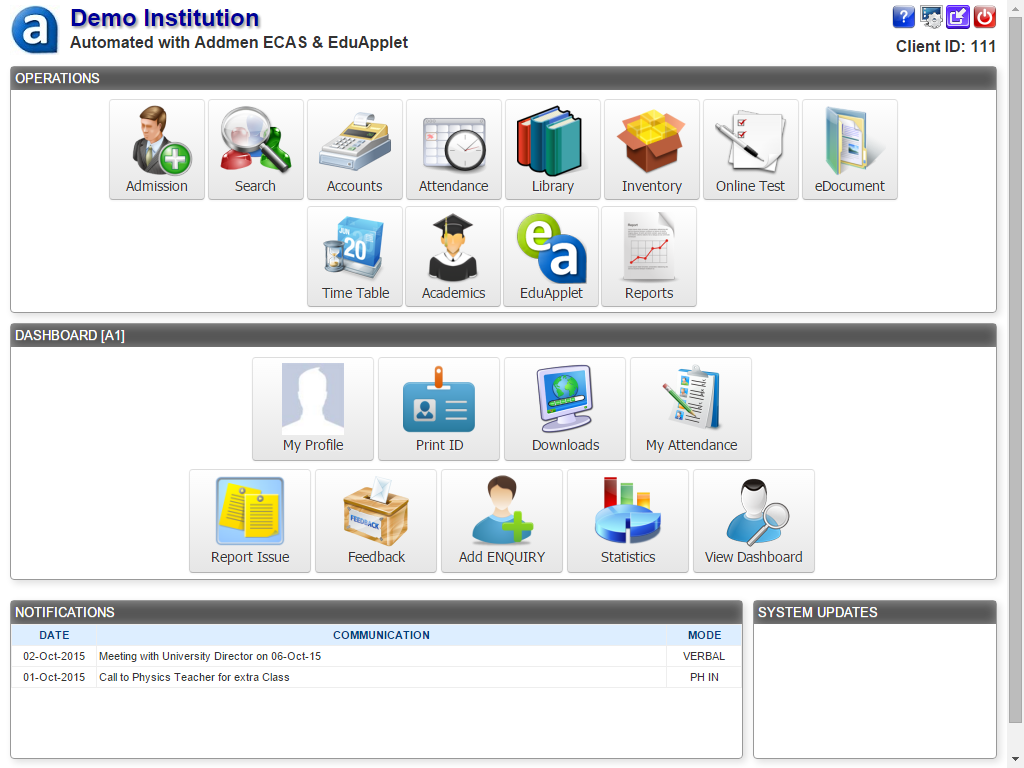 ECAS or Enhanced Campus Automation System is a software created by the Addmen group. This software is created to facilitate the workings of an educational institute, whether it is a college, school, coaching class or a university.
What is ECAS?
ECAS is a useful system that makes the working of an institute easy.
It possesses a module that can be used for admission procedures of students.
The daily attendance of students can also be maintained with the help of this software.
Teachers and staff can upload documents and study materials through the interface of this system. This helps to save money as well as time for printing and distributing them to the students.
Online tests can also be conducted through this software. One can create and upload test papers here.
Test reports and results can be generated using this software.
ECAS Features
This system can be customized as per the requirements of the clients. You are free to alter the fee and course structures and such other things.
It is a multi-lingual software. In other words, language is not a barrier here. It can be used in different languages.
The attendance of the students can either be entered manually or imported from a biometric system.
This software can be linked with the Addmen OMR software as well as question bank software. This makes it easy for you to create question papers for online tests easily.
The software enables you to generate reports in different formats as well as layouts. A user can choose from nine layouts for the design of the report.
It is easy to maintain fee records with the help of this software. You can generate fee receipts too.
This system has the facility of directly sending the reports to the students or their parents by SMS or email.
It is possible to upload timetable for every class. Students can access the timetable from the student interface.
eDocuments of course materials can be uploaded on the software for the access of students and teachers.
It can be integrated with Android systems too, making it possible to operate this system using mobile phones and tablets.
Library catalogues can be maintained with the help of the library module in the software. The book transactions can also be recorded.
The ECAS institute management software is a useful tool, irrespective of the size of your institute. With this, you can control the day to day work of the institute in an organized manner.
Read more:
Introduction

Modules & Features

User Interface and Features
Enquiry & Leads Management
Student Management
Fee and Accounts Management
Academics Management
General Administration

Data Process and Reports

Purchase Options

Register and Login