Addmen - The leading OMR Software & Assessment Solutions providers in India
Addmen is one of the leading companies that offers advance software solutions to clients around the world. Although it is most popularly known for its OMR software, the Addmen group also offers software or systems for eLearning, Campus Automation and Online Testing. Please read below about our ISO Certified Software Products & Services.
The client list of Addmen group stretches to
5000+ organizations, including 400 cities in India
and 20 countries around the world.
Click here to view our
Client List
that reflects the
reliability of our products and service
Advanced OMR Sheet Reader Software with OCR & ICR
Addmen holds the proprietary rights of the OMR software since 2002. Moreover, we are also the registered trademark owners of the ISO certified OMR software. Our OMR software is based on advanced technology and thus eliminates the need to use any kind of special equipment for scanning, printing or reading.
Unique, efficient and affordable
Earlier, OMR scanning required the use of a special OMR scanning machine system, which was not only bulky but expensive too. On the other hand, Addmen's OMR software is affordable and easy to use too. You do not need to buy any expensive equipment if you have this software.
Our OMR software provides complete OMR solutions. From designing to printing to reading the OMR sheets, you can do everything with this software. Apart from these, Addmen also provides OMR process outsourcing solutions, right from sheet printing to result declaration.
The Addmen OMR solution can not only be used for designing, printing and reading of MCQ based OMR answer sheets, but also for creating and processing attendance and application forms, surveys, questionnaires, feedback forms, etc. You can also create OMR sheets for recruitment exams and internal assessments.OMR-OCR-ICR Solution  Read more
Outsourcing Solutions for OMR Sheet Design to OMR Test Checking & Online Exam Results
As mentioned above, Addmen also provides outsourcing services of OMR solutions. We have an in-house, professional OMR scanning machine as well as adequate manpower who are trained to use the OMR software with efficiency. We offer end-to-end OMR solutions to entrance examination committees, recruitment firms, etc. who conduct tests and examinations on a large scale. OMR Scanning Services  Read more
Online Test Software
The online test software makes it easy for educational institutes to upload the tests onto their websites. It is convenient for the students who can login to their account from anywhere to take the test. The answers are evaluated and then the results are presented by the system. You can either buy the online test software or lease it on the basis of pay-per-use.
Online Test Software  Read more
ECAS (Enhanced Campus Automation System)
ECAS (Enhanced Campus Automation System) can act as a substitute for the administration department in an educational institute. Addmen created this software after a lot of research about the working system of educational institutes like schools, colleges and universities and designed a software that can adapt to the administrative system of all of them.
With this software, everything related to the running of the institute can be managed with just a few clicks. Be it student management, attendance management, fee management, admission management, library management, payroll and inventory management, everything can be managed with this software. Apart from this, it is also easy to maintain the records of staff members with ECAS.
It is possible to integrate OMR software, SMS sender, etc., with ECAS. In short, this system can be customized as per the requirements of the institute. ECAS is a life saviour for several institutes as it helps to save time while getting the work done efficiently. Read More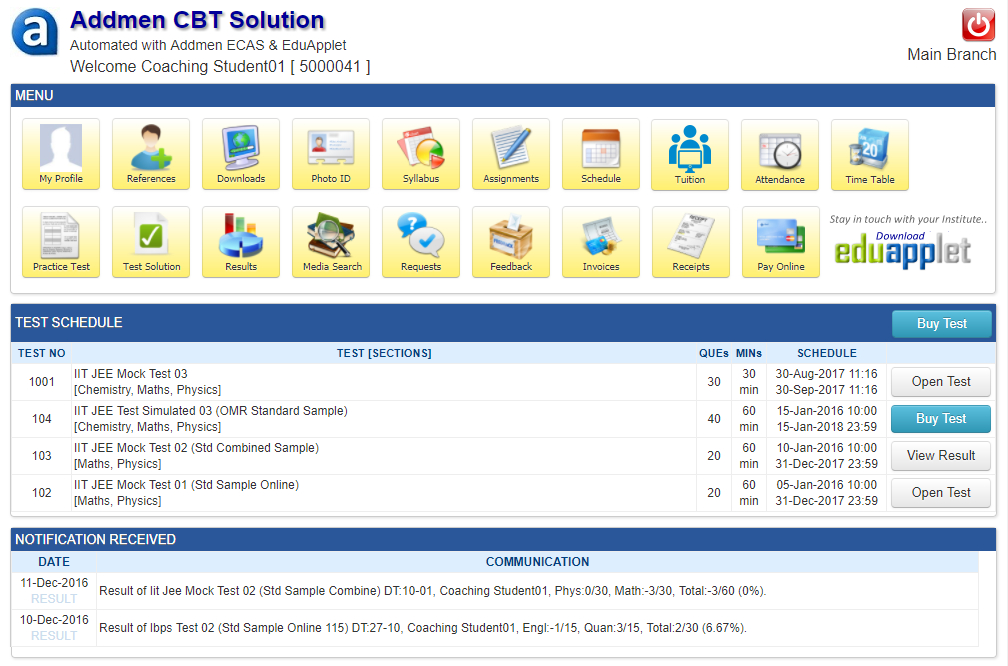 Other Softwares & Solutions
Android EduApplet an excellent tool for Online Test, Results, Notifications and e-learning video content on tablet and smartphones. Read more
Online Application System for collecting pre examination candidate applications online. The system is equipped with payment gateway and Bank Challan payment method. Very convenient for generating hall tickets and exam centre seating plan and attendance lists.  Read more
Bulk SMS for sending instant results and notifications. Many economic SMS packages available for sending SMS with this SMS sending Desktop software provided as a free utility along with Addmen OMR Software.  Read more