OMR Sheet Reading Process
False Assumptions About OMR
There are 2 wrong concepts about OMR sheet checking process that people tend to carry:
Wrong concept 1:
The expensive, traditional OMR Sheet Reader Machines or OMR Scanners are required for OMR sheet scanning process. This is a false assumption.
Wrong concept 2:
Specially designed, thick OMR answer sheets, meant for 2-colour printing must be purchased. This is also not true.
Current Assumptions About OMR
Correct concept 1:
OMR sheet scanning can be done using a regular image scanner. You no longer need to rely on expensive OMR sheet reader machines or OMR scanners, which also come with high maintenance costs.
Correct concept 2:
OMR sheet scanning can be done in black and white. 2-color prints are no longer needed.
Correct concept 3:
Regular printing papers that are 60-70 GSM in thickness can very well be used for printing OMR sheets.
The process of OMR - Optical mark recognition has totally changed in last 10 years. Earlier expensive OMR sheet reader machines were used as OMR sheet readers.
Now OMR sheet reading has become much simpler and economic. The role of OMR sheet checking machine is eliminated.
Now the OMR sheet reader software is used as OMR sheet checker and OMR form reader.
OMR sheet design is created using the OMR sheet design software.

OMR sheet printing can be done using normal laser / inkjet printer or photocopy or offset printing.

Any ADF scanner (Automatic scanning from pocket) can be used for OMR sheet scanning.

Any regular flatbed scanner (1-by-1 sheet) can be used as an OMR sheet scanner.

OMR software is the main component in the OMR sheet scanning process.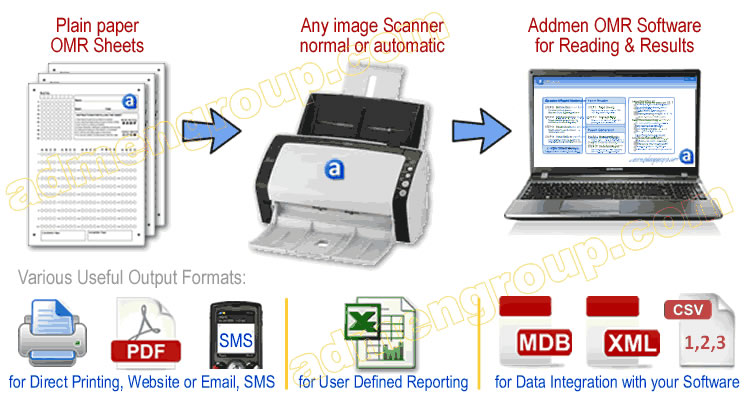 Mainly you need the Addmen OMR Software, the prime component that will do all the tasks to deliver you quick and automated results.p>
Introduction to OMR Sheet Design and OMR Sheet Printing
Any OMR sheet format of your choice can be created by yourself using OMR form design software. This OMR form designer module is available in Addmen OMR sheet reader software.
For OMR sheet printing, depending upon the quantity required, you can take laser prints, photo copies or offset prints on normal white paper. You don't need any specifically designed OMR sheet printer. OMR sheet cost is negligible as you can design and print your OMR sheets yourself.
Introduction to OMR Sheet Scanning
In the new OMR sheet scanning software based process, the role of the OMR sheet scanner is just to scan the filled sheet. So you can use any flatbed scanner (1-by-1 sheet scanning) or ADF scanner (Automatic Document Feeder- many sheets in pocket). This eliminates the need for customized OMR Scanning machines.
Choice of OMR scanner simply depends on the workload, the speed required, and your budget. If you already have a multi-function machine (print-scan-copy type) in your office, there is no need to buy the scanner; because the existing machine may also solve the purpose of scanning OMR sheets.
Addmen OMR Sheet Reading Software Process Overview