OMR Sheet Scanner Software
Addmen offers three modules of Optical Mark Recognition software, which include:
Module A: The Answer Sheet Checker – for evaluating OMR based MCQ Tests

Module B: OMR Form Reader – for collecting data from OMR forms used for surveys, questionnaires etc.

Module C: Question Paper Generator – to maintain question banks and generate papers by shuffling questions.
Graphic Overview of OMR Software Work Process for MCQ Test Checking & Form Reading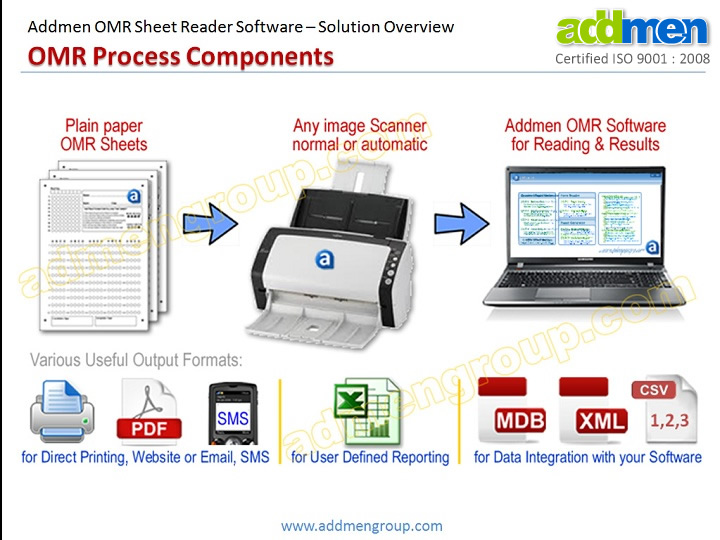 Module A: OMR Answer Sheet Checker
OMR Sheet Checker module is used for reading and checking OMR answer sheets that contain multiple choice questions. The software is extensively used by academic institutions and many firms for assessing the candidate's knowledge and for performing IQ tests which help identify improvement areas. A simple and user-friendly interface allows for easy designing and reading of OMR answer sheets, and for processing the scanned data into results and merit reports.
Introduction to Addmen OMR-OCR-ICR Software Solution
Following are Some of its Prime Features:
Make the necessary changes to the provided ready-to-use sheet designs and you can save the test for later use.

Easily set the test type and the number of questions, and define the subjects and sections in the test.

The OMR sheet designing software identifies complex decimal marking schemes and lets you conveniently define negative and bonus scores.

The OMR scanner software comes with a speedy processor that can easily deliver reading consistent speeds of up to 3 sheets per second.

Tilted sheets resulting from improper scans are auto-aligned to a considerable extent, thus avoiding rejection and rescanning.

Sheets rejected due to filling mistakes, like invalid or incorrect candidate IDs, multiple answers to the same question etc, can be read later in the manual mode.

Unlike the OMR form reader software, the answer sheet checker leaves out unnecessary details, like candidate names, addresses, photographs, signatures etc, while evaluating the sheets, as such information is not required for correlation and statistical analysis, which is what the software is tuned to achieve.
Module B: OMR Form Reader
Addmen OMR form reading software is used for collecting data from feedback and surveys, elections ballots, attendance sheets etc; for facilitating businesses administration tasks like quality assurance, inventory control, and for processing student applications etc Following are some of its basic features available in the standard version:
Quickly collects the data from OMR, which can be stored in Excel format.

As compared to the OMR sheet checking software, the form reader reads additional types of image blocks such as handwritten contact details, DOB, candidate photograph, signatures, and barcodes.

Manual attendance while processing like in the sheet checker is not generally required, as this module does not further process the data like the Answer Sheet Checker.
Use the Addmen OMR Software for Survey and Feedback Process in your Institute
Difference Between OMR Answer Sheet Checker & OMR Form Reader
While the Answer Sheet Checker is used for reading MCQ tests, the Form Reader is used solely for data collection purposes. We provide these two utilities as separate modules due to this variance in functionality.
OMR Answer Sheet Checker
Used for :
Evaluating MCQ tests and generating the results
Recruitment & Candidate Selection Aptitude Tests
Psychometric & IQ Analysis
The OMR answer sheet checker is equipped with a speedy processor that processes OMR data in detail. However, it cannot read all types of OMR blocks.
OMR Form Reader
Used for : OMR Data Collection
Application forms, Admission Forms
Questionnaires, Survey, Feedback Forms
Attendance Sheets, Marks Award Sheets
Ballot Paper, Check Lists , Process Cards
OMR form reader can read all types of OMR blocks, but it is not meant for processing the collected data into any kind of results. The raw data collected is directly exported into Excel sheets.
Module C: Question Paper Generator
Unlike the above two modules, this is not an optical mark reading software. This module is often clubbed with the Answer Sheet Checker for creating MCQ based exams. You can use this module to:
Conveniently shuffle the questions from the question bank to alter the chronology of questions of each online exam to create unique tests

Adequately format the MCQ test papers to be printed on regular A4 size sheets.

Prepare input files for creating Online Exams.
Addmen OMR Solutions - Advanced Version
Advanced version of the software is available for professionals handling heavier data collecting tasks involving tens of thousands of sheets. The advanced OMR scanning software offers additional customizations that allow for faster processing of bulk data. It comes with essential upgrades to better read sheets with missing index points or reasonably misaligned bubbles.
Addmen OMR Reader - Server Version
The server version of the OMR sheet reading software is just the safest bet for organizations seeking multiple deployment of data processing centers. The server version offers real-time integration of user terminals with the central server location, and users may still continue to use the software from the terminal end for a stipulated amount of time following the expiry of their license.
Read more:
Related Links: