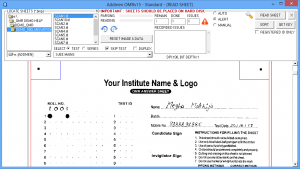 Addmengroup offers the OMR software that is being used by the many educational organizations. The OMR software consist of three modules, OMR Answer Sheet Checker, OMR Form Reader and Question Paper Generator. From those three modules OMR answer sheet checker is useful for the purpose of checking objective tests that have MCQs. Answer sheet checker software is not only able to design the sheet but also can read the OMR sheet. This module is utilized for perusing and assessing OMR answer sheets, answer papers that include multiple choice or objective questions.
The OMR answer sheet checker software is the quickest method for stamping and assessing objective type answer sheets. The software make comparison between the appropriate answers of the understudies and that of the appropriate answer key and gives point by point reports in minutes. This software is utilized for a few focused examinations where a substantial gathering of individuals take an interest.
Let's See How OMR Answer Sheet Checker Operate
The best part of the OMR answer sheet checker software is that it is able to make the reports. The utilization of the Addmen OMR software includes four stages which are clarified in detail beneath:
Stage 1st:
The first stage of the software operation includes the defining test paper. Defining test paper includes all the factors like selecting the questions, date of test, marks related to each question, total marks, duration of test, test name etc.
Stage 2nd
Second stage includes setting the proper OMR test answer key. You can set the answer key manually or just by copy pasting the appropriate answers from the excel sheet. But before importing answers from the excel sheet ensure that whether all answers are filled accurately in that sheet.
Stage 3rd                                                                                                                                                                        
After completion of setting the test paper and answer key, at the third stage sheets are filled and scanned. The software estimates the answers in this stage. Read the scanned OMR sheets and accumulate the data composed. Runtime alteration of wrongly-filled sheets is also obtainable.
Stage 4th
Fourth step includes producing the results of the test. The outcomes are definite ones, regularly including graphical reports alongside tabular ones. View complete OMR results like mark lists, checklists, complete graphical study and OMR sheet data in various pre-designed layouts. The results can be exported to Excel, XML, Access, Dbase, etc.
The reports which are generated by this software are comprehensive ones and provides the inspection of individuals, groups, topics and questions too. This software helps students and teachers to make enhancements in learning and teaching.