Question Paper Generator Software (QPG)
Question Paper Generator is also known as Question Bank Software.
Making assignment sheets, daily practice test, weekly test, Test series, Online Test etc. is a repetitive and time consuming process which involes both teacher and the computer operator.
Institutions that conduct frequent tests like Coaching classes for competitive exams can use this Question Bank Software to create testpapers in minutes without much dependancy on computer operators.
QPG creates printable output for pen & paper based tests and it also generates linear tabular soft copy output which can be used as an input to Online Test System.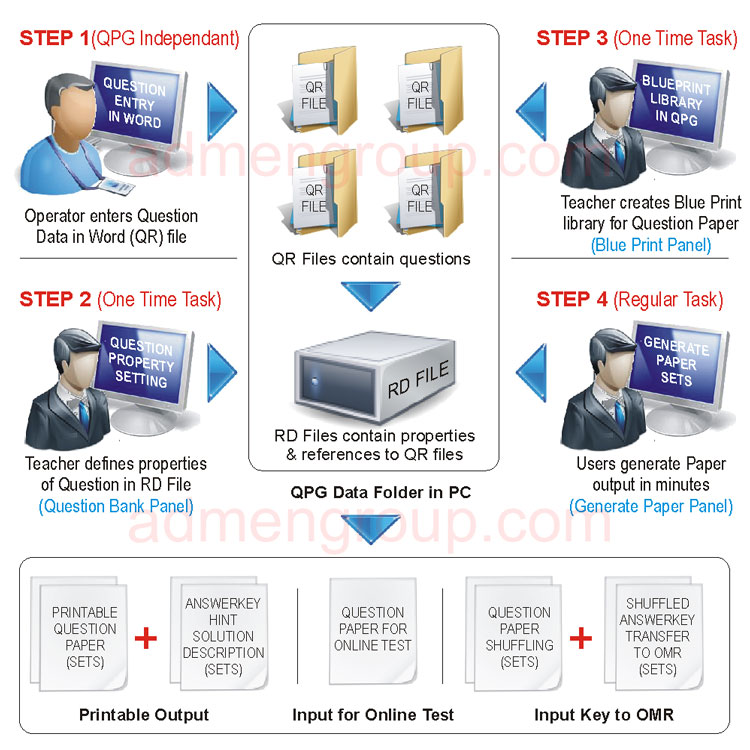 The Question Paper Generator Software is not limited to MCQ Tests. It can handle many different types of questions by random selection from Question Bank. .
| | | |
| --- | --- | --- |
| Single Choice | Numerical | Comprehension |
| Multiple Choice | Derivation | Diagram |
| Column Matching | Subjective | Fill in the blank |
| True or False | Theory | Assertion / Reason |
As a general concept, if we store questions in a database then we can only keep text based questions in english.
BUT in the Addmen Question Paper Generator this software we keep question data in a DOC file so we can store question text of any language, even multiple languages, we can create diagrams and store pictures as well. Formulas can also be incorporated using special formula editor utilities.
And so the QPG can handle questions having any or all of the above properties because its question content lies in a referenced DOC file called the QR file (Question Reference File). Simply put, you can generate Monolingual or Bilingual question paper containing questions with formulas and diagrams.

Download
Question Bank Software
Brochure