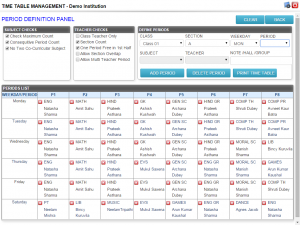 Addmen is a foremost contributor for tidy edifying software for schools and top universities that allows you to mechanize all facets of administration. Enhanced Campus Automation Software is one such vibrant school automation software that helps you sort out one of the many organized components of a foundation like time-table management.
Managing time-table manually is a very boring and difficult procedure which includes the calculated logic and allocation of periods amongst staff, class and subject. Also no one can pay for the mistake at the entire organization can go haywire. Therefore Enhanced Campus Automation Software is necessary to manage all these complicated tasks and time table management automatically without any errors.
Automatic Time-Table Creation Using ECAS
Let's see the some excellent features of the ECAS which incorporates the Time-Table management Software one by one.
The time-table management software offers a unique section for defining the name of class, no. of periods each day, periods in first half, weekdays, and so on. Also we can add the number of subjects or subject groups into the given fields.
It has given the choices to include the staff and define their every day or weekly periods and accessibility. Once you set the mapping structures, you will get a complete catalog of staff with their assigned subjects and class.
Whenever the faculty teacher is not present we can add substitute using the given options. In the period definition section, after checking your preferred fields and selecting class-section-weekday-period arrangement, a time-table is generated automatically by the software.
It offers extra check options like class teacher only, no successive periods of same subject, one period free in the first half, and so on. To deal out periods consistently among the section. The program logic in the software offers suggestions of obtainable teacher in order of precedence if a staff is on leave.
These excellent features of the time-table management software mechanize the complete procedure and allocate the workload consistently amongst the staff and auto-generated time table will for all time be there in the database and can be modified anytime regarding to the necessities and situation of an organization.
This time-table can be seen in the charts and reports board class-wise, staff-wise and subject-wise.
The charts of time-table will be obtainable for search and preview in various set-ups. The reports file of produced time-table is given in a unique folder in PDF set-up.
In this manner Enhanced Campus Automation Software can be utilized for arranging time-table ideally by schools, colleges, schooling classes and other instructive organizations.