OMR means Optical Mark Reader or Optical Mark Recognition is a system that is used to detect the marks made by humans on documents. Earlier, the documents were processed using OMR scanner, a specialized scanner developed for this purpose. While it the scanner was good enough to get things done, it had lots of disadvantages. The scanner was bulky and even a small mistake in printing, scanning or making of the documents would lead to wrong results. But with the OMR software is much more advanced and negates all the disadvantages of the OMR software.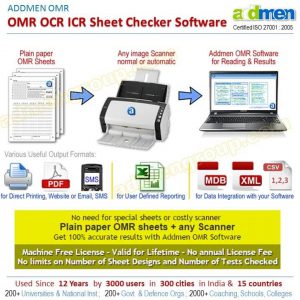 OMR Software Process
The process of OMR software is simple and straightforward. You do not need any specific equipment or skill for the same. All you have to do is download the software on your computer. Here is how the software works.
Step 1
The first step of the process is getting the marked documents scanned. You do not need any particular scanner for this purpose. Any flatbed, ADF and MFP scanner is enough. The scanned OMR documents or sheets are converted in digital form and saved in folders.
Step 2
The software starts reading the scanned OMR sheets in the folder, as per the instructions given. The reading process is fast and the chances of errors are zero. The software identifies the marks made on the sheets and reads the data accordingly. In case some of the scanned sheets are skewed or tilted, the software rectifies them automatically. Nowhere does the software stop for manual correction or intervention.
Step 3
If the scanned sheets are answer papers, the software not only checks the papers but also provides a detailed report of the result. In case, the OMR sheets are printed forms, the information is collected and transferred to an excel sheet.
Salient Features of the OMR Software
The OMR software is used in educational, research, technology and such other fields. Due to its speed and efficiency, it is also used by several government institutions, including the election commission. Here are some of the salient features of the OMR software.
Any type of OMR sheet can be read by the OMR software. It is also possible to read the photocopy of the original OMR sheet.
Right from a regular, inexpensive scanner to a very high speed ADF scanner, anything can be used to scan the OMR sheets before running them through the OMR software.
The OMR scanner can read unlimited scanned sheets within a short period of time.
The thickness of the paper or the colours used on the sheets, neither would affect the reading of the OMR software.
The OMR software is definitely a revolution in the field of OMR scanning and reading. It has not only simplified the entire process but has also made it quite inexpensive. Now, you only have to invest in the software and do not have to worry about the expensive printing process or the bulky OMR scanner.