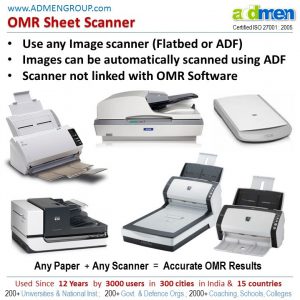 Scanning OMR sheets is no longer a dreary procedure. You don't need to purchase an extraordinary scanner to do it; rather, a typical OMR scanner can take the necessary steps for you. You can either utilize an ADF (Automatic Document Feeder) scanner where you can bolster various sheets at one time or you can go for a Flatbed scanner where you can put just a single sheet at once. The type of scanner you pick would rely upon your financial plan and prerequisites albeit the majority people select the ADF scanner as it is quick and henceforth efficient as well. As we have as of now talked about the type of scanner to utilize, let us investigate how to scan OMR sheets.
Guidelines for scanning OMR sheets
As the scanning procedure is basic, there are a few instructions that you have to take after to ensure that you get precise outcomes.
With the ADF scanner, you can put numerous quantities of sheets in the scanner pocket. In any case, you need to guarantee that they don't tilt or influence amid the filtering. Consequently, shut the side holding sections of the pocket appropriately before scanning the sheets. Ensure that the index points are printed appropriately.
You can scan the sheets in any scanning mode, be it black and white (1-Bit) mode, color or grayscale. For answer sheet scanning, utilizing black and white mode is the best. Color formats are required just if there should arise an occurrence of scanning colored OMR sheets. Though, on the off chance that you have a propelled scanner, the colored sheet can be changed over into a black and white one. Colored mode is typically required when there is a colored photo joined to the sheet.
Pick a DPI in the vicinity of 100 and 200 while scanning the OMR sheet. Higher DPI is not required for precise scanning reading. Then again, 100 DPI is sufficient for exact scanning reading of the sheet. Really, when the picture size is low, it is less demanding to deal with and upload it. Nevertheless, if the OMR sheet has a scanner barcode, it is best to utilize a DPI in the vicinity of 150 and 200.
The OMR sheet ought to be scanned in TIFF and BMP records, which are bolstered by a wide range of scanners. The sheets ought to never be scanned in PDF format. While the software does not read in JPG format, you can even now scan it in the format as it gets changed over into BMP document consequently by the software before reading.
These are the responses to the question how to scan OMR sheets. Follow them appropriately so that the scanning procedure is smooth and the outcomes you get are exact.