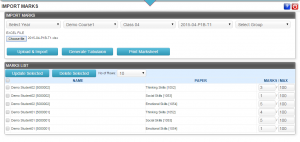 Conducting examinations includes different processes like defining tests, review and result creation. It would be so easy on the faculty if one software handle all these operations. Using ECAS (Enhanced Campus Automation System) with its so many vibrant modules included into it, examinations can be accomplished without any errors in its operations. Let us see how it is possible with Examination Management Software.
Upload & Import Marks
The database contains all the details about examinations result of students. This requires be organizing and collecting categorically which is done from the educational import marks panel.
Selecting from the existing search filters, you can upload the database file of students year-wise, semester-wise, batch-wise, subject-wise or in subject combinations.
Importing this file displays a summary of students list with selected field titles.
Mark Sheet Generation
You can select an individual candidate or group of students to view their marks list.
A detailed mark list of students can be viewed in different preview formats.
ECAS provides several layout structures and designs to create your own mark sheet and marking scheme with the institute's name and logo on it. These layout options are suitable for those who prefer mentioning maximum/minimum marks, alphabetical grades, aggregate, etc.
These mark sheets can also be printed in various formats.
Tabulation Register
The academic import marks panel also provides an option for generating tabulation.
A tabulation register is a complete list of examination scores of students conducted throughout their academic history.
This tabular format of marks list is essential for viewing past history of marks and also to analyze the overall performance of students in all examinations.
The tabulation register is generated in Excel format.
Some boards prefer online examinations and some institutes have online practical tests, scores of which are counted for calculating the overall percentage. Such online tests can also be conducted through Examination Management Software.
Everything in ECAS is automated, so you don't have to carry out a usual examination procedure. Some of the schools, colleges, universities, coaching institutes and other educational institutes are already using ECAS for examination management because it is the best campus automation software.