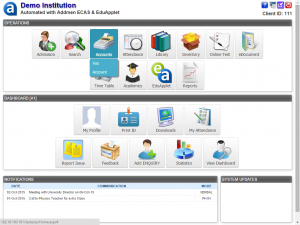 A university is the place where  students go for higher studies. It is an organization where an expansive number of courses are accessible. Because of this, there are a few divisions and groups in a foundation. As the college needs to handle the consignment of an expansive group of students, a University Management system is something that would make every one of the procedures simple. Enhanced Campus Automation Software  by Addmen is such a system.
ECAS is something that can be utilized for an instructive organization since it is flexible Software. As the university has a diverse working system, certain one of a kind component can be added to suit its prerequisites. From admission to fee administration to result administration, everything should be possible utilizing university management system.
The admission module deals with every one of the necessities required for the admission processes. It is conceivable to include and subtract the field names according to the university's necessities.
As the OMR software (which has OCR and ICR) is incorporated with ECAS, the admission information is specifically renewed into ECAS, making the procedure very simple.
After the admission, the student ID cards are likewise produced consequently, in the layout of your preference.
The ECAS system can be incorporated with the OMR software to take out marks got in exams. The software gives these marks in the form of reports.
Distinctive designs and configurations of the report can be made utilizing this software. With only a tick of the mouse, you can make a modified design of your choice.
Aside from report era, this software can be utilized for showing the outcomes on the web.
The software additionally offers fee management software which can be modified by characterizing the expense structures. The students can likewise pay their expenses and immediately get receipts for the installment.
Library transactions can be recorded utilizing the software. It is likewise simple to list every one of the books utilizing this software.
ECAS is a system that services every one of the procedures of the university from start to end. It makes the work of controlling every one of the section of the university very simple.