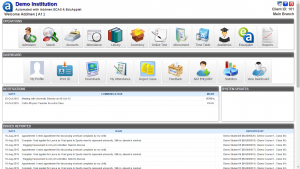 Addmen's education management software is also known as ECAS or Enhanced Campus Automation System. Right from admission of the students to the attendance records to report creation, this product handles all the organization obligations of an association proficiently. This product can be utilized by schools, universities, instructing classes, colleges, and so on. Let us take a look at a few features of this software.
The software has an admission and enquiry management software. This facilitates to keep up a record of the students who have enquired about the course as well as those who have taken admission at the institute.
Education management software has a fee management software where the records of the fee payment made by students are saved. Details like the amount paid, date of payment, next due date, etc. can also be found here.
This system has an attendance and leave management software where all the leave and attendance details of the students and the staff can be stored.
The software also has a library management system, online test management system, test report management system, etc.
The education management software has several features that make the running of the institute hassle-free.