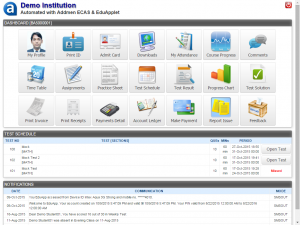 Addmengroup provides the Enhanced Campus Automation Software which helps many educational organizations to manage their administration.This software is not only an interface for the managers but can create the interface for students also. Students can ingress their individual dashboard with the login ID and password provided.
The student dashboard is divided into two sections, using first section students are able to view and ingress their individual details like profile, attendance record, course improvement, course stuffs, test timetable, test answers, fee details and so on.The second section provides the online test related content only.
Advantages of Student Dashboard Online Test System
At the point when students login to the online test system, they can see their customized dashboard which has their profile and they will be able to print their ID here.
Student dashboard online test system is provided with the download module with which Students will be able to download notes and class videos.
The software also provides the different modules with it like time table, test schedule, practice sheet, test solution, test result, progress chart, make payment, etc.
The test panel is provided below all the modules, where students will be able to check for the details of tests.
The first segment has the test no., the second segment has the title or subject of the test, the third segment tells the term of the test, the fourth segment demonstrates the quantity of inquiries and the fifth section has the period amid which the test was active.
The last or sixth segment contains the action buttons. Whenever the student logged in at the time when test is active they will see the buttons displaying the message 'Take Test', and if they miss the test they will see the 'Expire' message on that action button.They can also check for the button which will display the 'Coming Soon' message for the that would be active in the future.
Using the test panel students can see the results of their particular tests.
Beneath the test panel, there is a Communications panel where points of interest of the messages are sent to the students are shown. The date, matter of correspondence and the mode are depicted in this panel
The online test system makes uploading tests very simple. Besides, students  have the flexibility to give the exams during a period that is helpful to them. The student dashboard for online test system is easy to ingress and utilize.