OMR Sheet Designer

The Addmen OMR software has made the OMR sheet designing process quite simple. Earlier, sheet designing was a tedious task as the sheets had to be first designed in CorelDraw and then scanned at a high resolution to calibrate the location of the bubbles in the OMR system. This was a lengthy and time consuming procedure. Moreover, it was not always accurate as it would depend on the skills and knowledge of the OMR sheet designer. However, the introduction of OMR software has changed the process of OMR sheet designing completely.
OMR Sheet Design Software
The OMR software possesses an inbuilt facility that helps you to design different types of OMR sheets. This OMR sheet designer software comes integrated into the OMR answer sheet checker and OMR form reader. You do not have to pay extra money to buy the OMR sheet designing software.
OMR Sheet Design Features
The sheet designing process is easy. You can design the sheets by dragging and dropping the bubbles at the desired location.

From answer sheets to application forms or questionnaires, you can create a huge variety of OMR sheet designs.

It is not only possible to create different types of designs but also different sizes of the OMR sheets. The smallest OMR sheet can be of the size of a stamp, and the largest can be of A3 size.

Pre-printed OMR sheets designed using the old OMR technology can also be calibrated with the OMR software.

One of the advantages of using the OMR sheet designer is that you can get the sheets printed on your own, using an inkjet or laser printer. You do not have to rely on any paper vendors or special printers for getting the OMR sheets printed on time.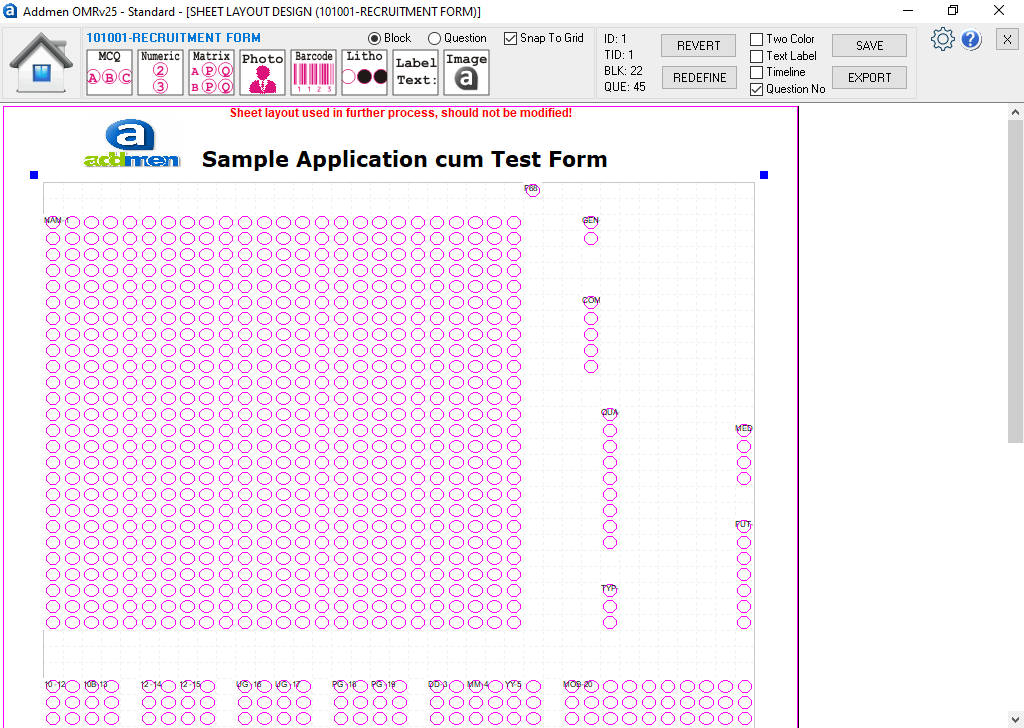 Read more:
Related Links: