IBPS Online Test Software with unique Features suitable for IBPS Online Examination System
IBPS has its own unique online test software interface which caters well for the pattern of examination decided by IBPS.
A lot of questions are based on data interpretation and thus involve the question to contain large passages with charts and graphs. With several questions asked based on these passages.
For easy selection amongst the various sections of the test. The Question paper which allows for convenient selection and recruitment of employees for banking organizations in India, has also included a link to a 30-minute online practice test on their official website.
Addmen online exam software can be used for end-to-end management of complex online examination systems containing various types of questions.
Many institutions and academic exam bodies have resorted to online tests for conducting statewide and nationwide examinations for a large number of students. Managing the entire exam process has always been a difficult task for such institutions. Addmen provides an end-to-end solution for complete management of the examination process with the Online Exam software.
IBPS Online Test Software Features
The online test software interface can be integrated to the institutes's website via a link, clicking on which will redirect the users to the online test server location.

The software comes with a highly customizable GUI and does not contain the name and logo of Addmen. You can include the institute name and logo as per the set brand standards.

You can even include a link on the institutes's website for facilitating easy registration of students for the online test.

The software supports integration with Payment Gateway, which you can use for facilitating convenient fee transactions.

Any number of branches, courses, and batches can be created and managed under one roof. Administrators can also create sub-user accounts with limited rights.

Addmen Online Exam software also has an offline feature, so candidates can simply download the test, solve it offline, and then upload their solutions to get the online result reports. This feature is particularly beneficial for regions that often experience connectivity issues or if the student does not have an internet connection at home.

All the patterns of questions that are normally found in all complex entrance examinations, including IIT, CAT, and IBPS can be integrated into the question paper you create using the online test software.

The software works on a .NET platform; do not mistake it for an open-source online exam software.

Instructions for IBPS Online Examination
You can upload the test instructions file in HTML and PDF formats using the Addmen server utility. The test instructions appear on the first page of the online question paper, to be viewed by the user before starting the test (refer to the screen shot below).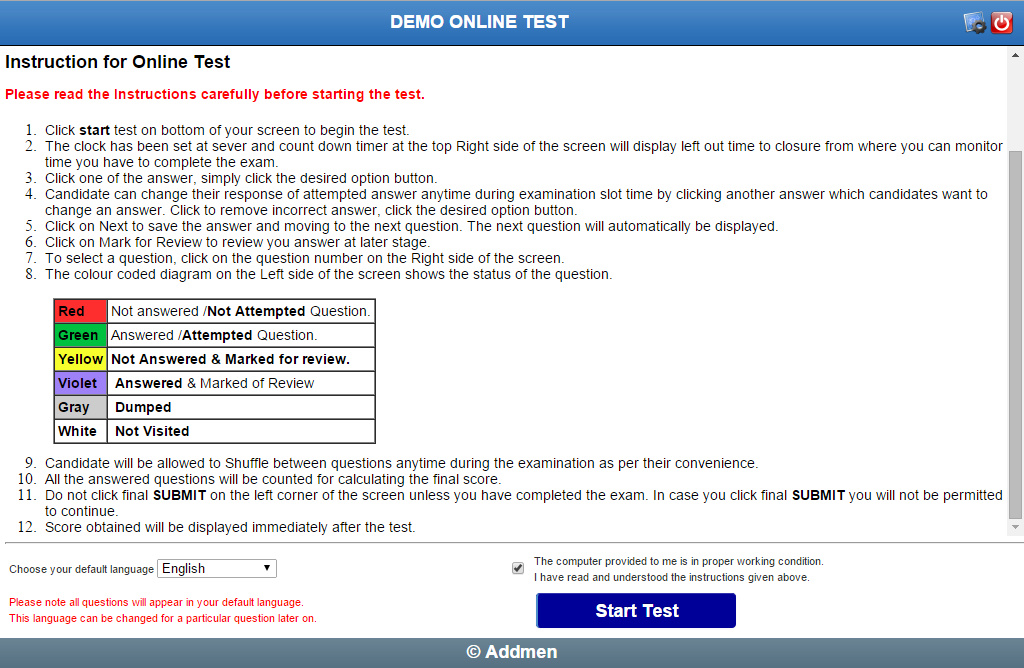 Instructions for IBPS Online Examination
Interface of IBPS Exam Test Panel
IBPS uses an online test pattern, which is very similar to the test patterns that can be created using Addmen online exam software. Refer to the screen shot below to get an idea of how the interface of IBPS Exam Test Panel looks like.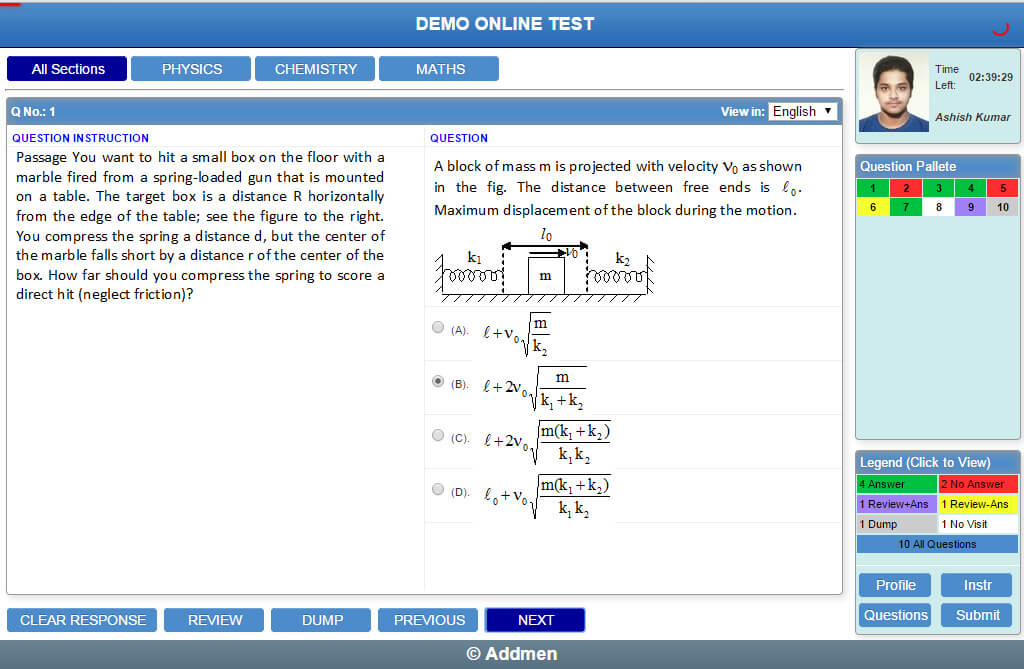 Interface of IBPS Exam Test Panel
Read more:
Online Testing Software

Online Test System VIDEO

Online Test FREE DEMO