Online Examination System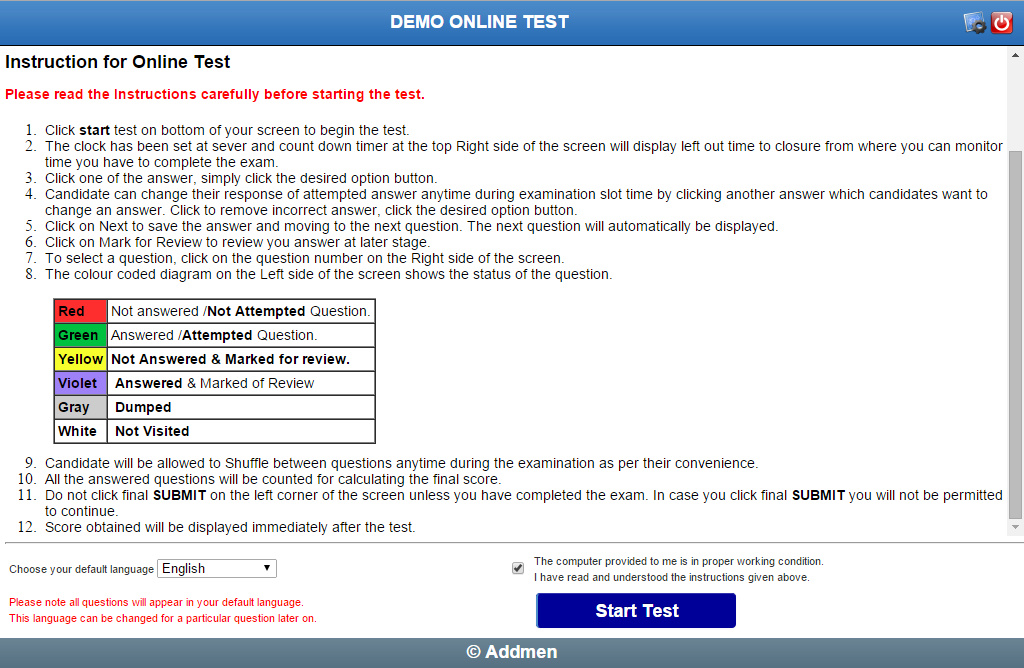 Instructions for IBPS Online Examination
Many academic institutions operating on a national level and which are typically funded and administered by government bodies have resorted to Online Exams for easily conducting aptitude tests for a large group of students spread out across the country. Entrance examinations like IIT JEE, CAT, IBPS, Gate etc have started taking online aptitude tests to facilitate smooth coordination and administration of the entire exam process; and it is an upcoming trend seen in other examinations too, like CPT etc.
Addmen online exam software facilitates end-to-end management of complex online examination systems. From creation of the test to displaying the test results online, everything can be managed from within one software interface that accommodates all the requirements of the test.
Online Examination System for IBPS Online Test
Institute of Banking Personnel Selection or IBPS, known for facilitating convenient personnel selection and recruitment for banking organizations, has recently integrated a 30-minute online practice test as part of their official website.
Click here for more information related to Online Examination System for IBPS Online Test.
Online Mock Test for JEE Main and JEE Advanced - IIT Online Test
Indian Institute of Technology Joint Entrance Examination, popularly known as IIT JEE, is a leading and one of the most complex entrance examinations meant for those seeking admission into any of the IITs in many states across India, including Madhya Pradesh, Gujarat, Maharashtra, Punjab, Haryana, Uttarakhand, Odisha and Nagaland.
With the rise in demand for online examination solutions, IIT JEE (Mains) is also conducted via a secure Local Area Network (LAN). Unlike the written exam, candidates attending the online based JEE can change the answers to their attempted questions at any point in time. Moreover, the exam also offers flexibility in terms of the timings and the candidates can take the test within the specified time period at their convenience.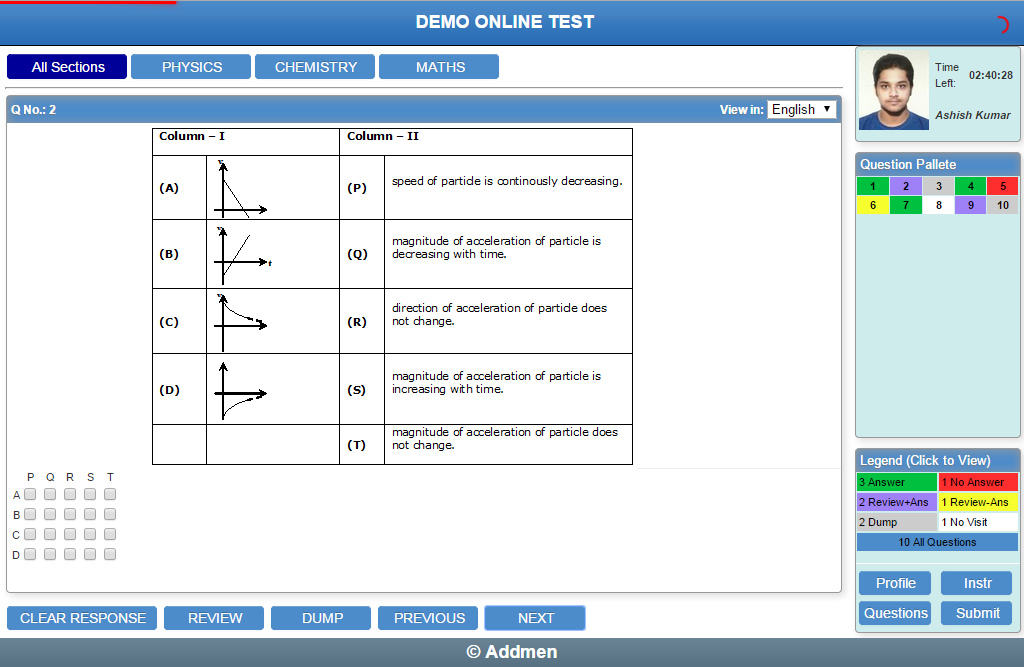 Online Test System for CAT Online Test
The CAT online test typically extends for a total time of 170 minutes (2 hr 50 min). This exam follows a complex set of standards to ensure maximum transparency in the exam process.
Candidates who complete their test before the scheduled end time must remain at their seats till the end of the test, as the SUBMIT button will only be enabled upon completion of the test duration.

Students exiting the examination hall are not allowed to renter, and their tests will be considered incomplete.

One of the main test parameters is that the candidates are strictly instructed to not use the keyboard at all for answering the questions; doing so will lock their user terminal, forbidding them from attending the test. All the answer responses must be made using mouse-clicks only.
Addmen online exam software comes with a highly customizable interface that can be used to set such complex test parameters. The software is an efficient solution for facilitating mass-scale entrance examinations and is a complete online examination system that you can link to your institutes's website.
Online Test for NATA
Like any other examination, NATA also requires the candidates to attempt tests within a fixed duration. But differently, NATA also specifies the time limit for each question to one minute. The Addmen Online Test Software supports this provision of allocating specific time duration to individual questions of a section
Read more:
Online Testing Software

Online Test System VIDEO

Online Test FREE DEMO