OMR Answer Sheet Checker
OMR Software is provided as Lifetime License on one-time payment.
No annual License Fee.
No limitation on Sheet Design
No limitation on No. of Tests
No limitation on No. of Sheets
The OMR answer sheet checker is the first out of the three modules ofAddmen OMR software. As the name suggests, this software is used to read as well as check the OMR answer sheets. The software compares the answers marked by the students with the answer key and provides the total marks at the end. This is a great tool for exams that have MCQ type or objective type questions. Here, you will find all the information you need about the OMR answer sheet checker.
How does it work?
The process of using the Addmen OMR sheet checker software can be explained in four simple steps. They are:
The first step is where you have to define the test. Here you define the important elements of the test like test name, date, subject, topic, number of sections, number of questions in every section, etc.

The second step is to set the answer key. This can be done by typing the answers manually in the system or by copy-pasting them from a Excel Sheet. You can also import the correct answers from an answer sheet containing all the correct answers.

The third step is where the main job of the answer sheet checker is done. It reads the scanned images of the answer sheet, compares it with the answer key and evaluates the answers.

The fourth step is where the software provides the results of the answer sheets. Once the answer sheets are evaluated, the total marks scored by the students are presented in a report format.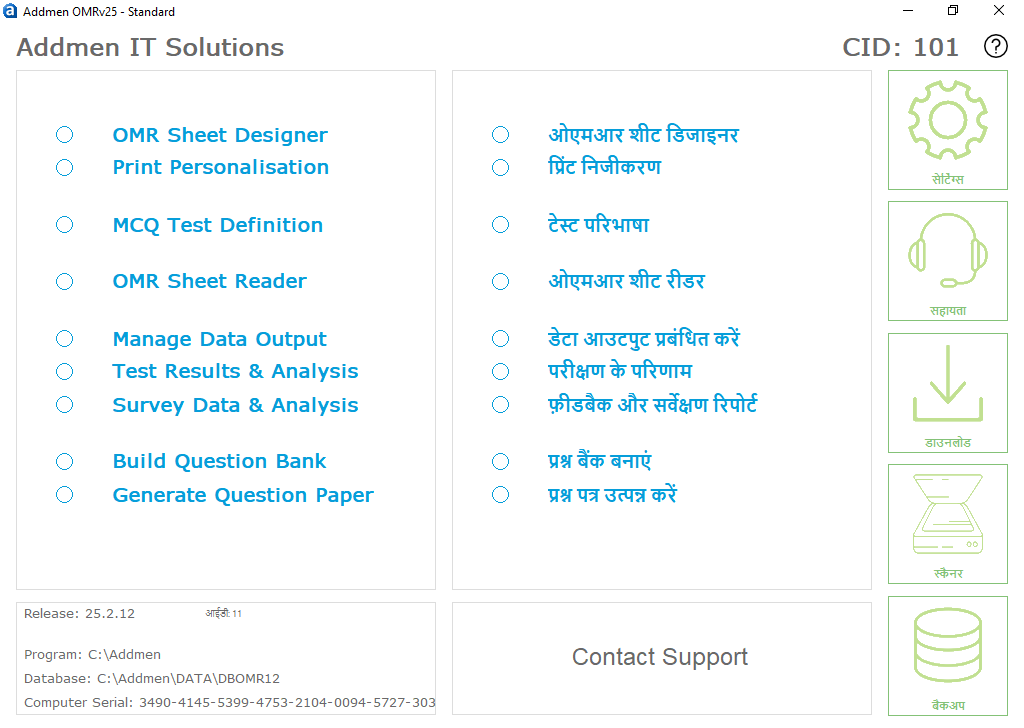 Features of OMR Answer Sheet Checker
Apart from checking the answers and providing the reports, the Addmen answer sheet checker software has some other amazing features too. Let us take a look at a few of them:
The answer sheet checker reads scanned images of the OMR sheets, making it possible for you to use any type of scanner for scanning the sheets.

The software has the capability of reading three sheets in one second.On an average, it can read upto 100 sheets in one minute.

It sends real time alerts while reading the sheets if it finds any sheet filling mistakes. Information on mistakes like blank ID, multiple bubble marking in the same grid, duplicate or double marked ID, wrong test paper set, etc. would be alerted by the software.

It can evaluate different types of tests like those that contain fill in the blanks, numerical questions, column marking questions, true and false, etc. It can also evaluate psychometric tests.

The test report feature can be used for creating reports for subjective exams too. You can do this by entering the marks manually or by importing it from another file.

The OMR answer sheet checker can create different types of reports. Mark lists, tabular reports and graphical reports are a few.

You can also design different types of OMR answer sheets using the designing software available with the answer sheet checker.
Addmen's OMR answer sheet checker is used by several reputed educational institutions to evaluate the answer sheets of their entrance examinations. It is also a useful tool for private coaching classes and colleges that have to conduct tests on a regular basis.
OMR Sheet Checker Software
OMR Software for checking of OMR Tests (Objective tests) having Multiple Choice Questions (MCQ)
OMR Answer Sheet Check Software is a fast and efficient way of checking and marking objective examinations. OMR Software reads OMR Sheets and produces detailed reports, which allow for in-depth analysis of individual students, groups of students, questions and topics.
OMR Solution considerably saves time, but it is the reporting facility that often proves to be of most interest as it allows for an analysis of student understanding of items of knowledge and has implications for potential improvements in teaching and learning.
OMR Form Reader
OMR Software for reading of OMR Application Forms or OMR Admission Forms
OMR Form Reader is a fast and efficient way of collecting and processing questionnaire, survey, feedback, application form data using OMR Forms or OMR Sheet designed for the purpose.
OMR Form reader is capable of reading OMR Application Form no. using Optical Character Reading (OCR) technology. OMR Form reader also captures candidate photo and signature images in OMR Answer Sheet and OMR Form.
Accuracy of OMR Results
Addmen OMR Software is 100% accurate and delivers results with 100% accuracy, even with tilted or skewed images.
Unlike other OMR Solutions where it is essential to ensure straight scanning of OMR Sheets, Addmen OMR Software automatically rotates and corrects tilted OMR Sheet to deliver accurate results.
The accuracy of the results is not affected by thickness of the paper or colour of OMR Sheet printing. Accuracy is also unaffected by the number of OMR sheets to be read.
The OMR Software has intelligent OMR Scanning defect detection mechanism which automatically adjusts OMR Reader parameter while scanning different modes in the same lot, thus minimizing the case of rejection to almost zero.
Computer/PC requirement for OMR
OMR Sheet Reader  runs well on any computer running on Windows XP, Vista, 7/8.You don't need internet connection to scan the sheets using the OMR Software.
Speed of OMR Software
Instant and detailed OMR test results of more than 500 OMR Sheets is achieved in about 10 minutes.
The speed of OMR form reading is unaffected by the number of OMR sheets to be read.
OMR Software Cost
OMR Sheet printing for OMR Software is simple and users can print OMR Sheets themselves on regular copier papers.
So OMR Software are much cheaper as compared to Hardware OMR Scanners Machines, and come as a complete replacement alternative to costly OMR Scanners Technology.
OMR Result on Website
A ready-to-use Online Result module is available on lease which can be linked to your website. Students can login from anywhere and view their results online and can also get graphical-analytical data.
Addmen OMR Software Operation
STEP 1 > Define OMR Test
Set OMR Test Name, Test Date, Subjects, MCQ Counts per section..
Watch Demo Video

STEP 2 > Set OMR Test Answer Key
Manually Feed or paste OMR Test Answer Key from Excel or extract answers using a correct OMR Sheet. Set Marking Scheme & Topic Tags.
Watch Demo Video

STEP 3 > Check OMR Sheets
Read & Store OMR Sheet Scanning data. Runtime correction of wrong filling by candidates.
Watch Demo Video

STEP 4 > View OMR Results
Calculate OMR Result, view marklists, statistics, detailed graphical analysis & detailed OMR sheet data in pre-designed result layouts or export to Access, Excel, Dbase or XML.
Watch Demo Video

Click here to download Graphical Analysis Report
Addmen OMR Software Operation
STEP 1 > Define OMR Test
Set OMR Test Name, Test Date, Subjects, MCQ Counts per section..
Watch Demo Video

STEP 2 > Set OMR Test Answer Key
Manually Feed or paste OMR Test Answer Key from Excel or extract answers using a correct OMR Sheet. Set Marking Scheme & Topic Tags.
Watch Demo Video

STEP 3 > Check OMR Sheets
Read & Store OMR Sheet Scanning data. Runtime correction of wrong filling by candidates.
Watch Demo Video

STEP 4 > View OMR Results
Calculate OMR Result, view marklists, statistics, detailed graphical analysis & detailed OMR sheet data in pre-designed result layouts or export to Access, Excel, Dbase or XML.
Watch Demo Video

Click here to download Graphical Analysis Report
MCQ Test Result / OMR Test Result Outputs
Selectable display parameters choice like Percentage / Percentile / Test Rank / Class Rank etc.

Sorted by Name / Student ID / Rank Reporting Available

Graphical Progress Analysis ( Click to view Graphical Analysis Report )

Detailed OMR Sheet Analysis

Test Group Analysis

Individual Candidate Analysis

Multi-column reports for multiple subject OMR Tests

Subject wise & Topic wise segregated results

Reports are available in ready to Print formats

Reports are exported in PDF/EXCEL/words/RTF etc.

Result can be sent through SMS / email or displayed on website
Read more: