Accurate OMR Software
Our OMR software solutions are equipped with several utilities that allow for fine-tuned reading and processing of OMR forms and sheets, with minimized rejections, and completely accurate results.
Fully marked bubbles are preferred for MCQ based examinations, while tick marks are used in survey sheets and election ballots. You can tighten the responses to only include fully marked bubbles or allow lenient thresholds for validating partial filling or smudged fills, and you can adjust the response sensitivity.
Answer keys defined with specific response thresholds are maintained while re-reading the sheets. Note that however sensitive your response threshold might be, Addmen OMR software prompts the user to detect double markings & even validate it if required.
Reading Instances that Call for Manual Validation
Sheets that are excessively tilted or rotated are easily validated, thanks to the auto-aligner feature.

Incorrect readings like unfilled ID blocks, double answers, duplicate candidate roll numbers, invalid markings etc are never auto-validated and calls for instructional feeds that are to be done manually.

All the scans that do not pass validation are skipped in the auto-mode, which can be attended to later using the manual mode.

Multiple entries in any of the image blocks, such as those meant for candidate or test IDs, are also prompted for user attention.



Addmen OMR software solutions are designed to accurately read multiple marking styles, based on the OMR sensitivity settings as per your data collection requirements. Only the raw data collected from the scanned images (and not the sheet scans themselves) are furthered for processing. This facilitates reduction of time consumed in data correlation and processing of results, if you are using the server version, where the results are populated at the central server end. The output is then uploaded back onto the user terminal, which can be downloaded and saved in various formats.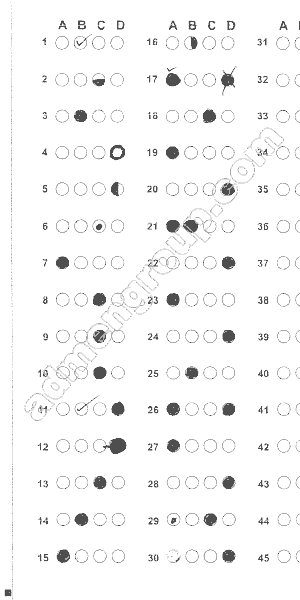 Addmen OMR Answer Sheet Checker Software can accurately read any type of OMR bubble filling depending upon the setting of OMR Optical Mark Reading sensitivity as per the MCQ examination policy.
Read more:
Related Links: