OMR scanner v/s OMR software
How OMR scanning machine and software are different from one another
One of the leading misconception among people is there is a need for a special scanner for scanning OMR sheets. OMR scanning software comes with a lot of features, and it is more advanced than the scanning machines. In fact, OMR software solutions have eliminated the need for OMR scanning machines.
Cost of OMR scanner often confuse many people
It is a known fact that price of OMR scanning machine is quite up and people think that there is a need of a special scanner for scanning them. However such machines were a part of old technology and are not needed today. Novel technology needs any commonly used scanner and a scanning software for OMR sheets to perform its task.
OMR scanning machine and software pit against one another
1. Novel technology based on scanning software
Any general purpose scanner is used in this technology for scanning OMR sheets, following which the OMR software handles the data processing. There are several scanners known for low price and high quality and can easily be purchased for using with this technology.
2. OLD technology
It makes use of a processing software and an OMR machine that has faster speed. The scanner comes built-in in the machine.
Novel software technology has price advantage
There are many scanners that can be purchased at a very low price and some are priced affordable. The good thing is this technology has price advantage as there is no need to buy the expensive scanning machines.
With many scanning software such as ours, there is not even a need to have special printing or special paper for OMR sheets. As the software based technology allows users to use printing on regular copier papers; and with any general purpose printer, the price gets reduced to a great extent and per page cost usually becomes somewhere around 55 paise.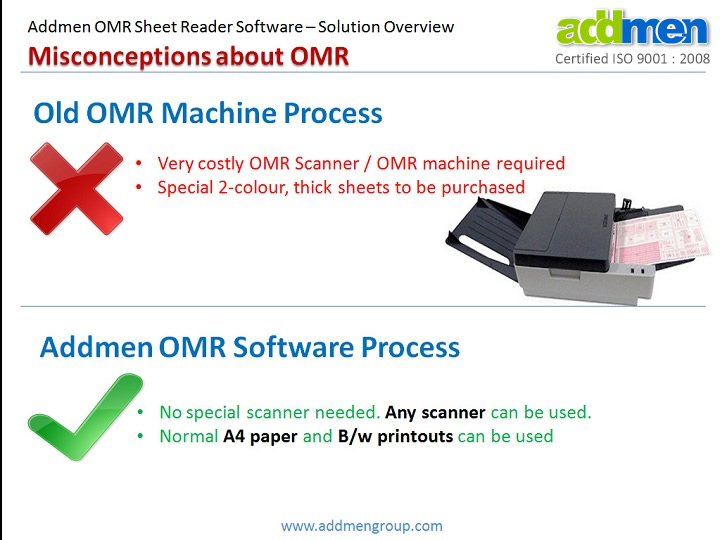 Read more:
Related Links: