OMR Sheet Printing for Recruitment Exams
Addmen provides end-to-end OMR solutions right from sheet design and printing to scanning and evaluation of sheets to process results.
Various types of OMR Sheets offered by Addmen are:
Simple Black & White Sheet: It is a single sided OMR sheet printed with black ink on white paper. It is mostly used in examinations where the budget is to be economized
Two colour OMR Sheets: These are conventional looking OMR sheets with 2 colours, usually pink & black or Orange and black. The purpose of the second colour besides black is to facilitate colour dropping. Some OMR systems only want colour sheets and work on the basis of colour dropping only. However such sheets are not necessary for Addmen Software. We can very well read and process simple black and white sheets. However the use of coloured sheets is suggested when the pattern of examination allows the use of pencil or smaller tick marks. Click here to know more about coloured OMR Sheets.
Duplex or Two side printed Sheets: These are two side printed sheets in either coloured or black & white mode. Such sheets may or may not have OMR reading blocks on both sides. These sheets come into picture when there are too many instructions or bilingual instructions which require too much space. Also when the number of fields of information or number of questions is more than what can be accommodated on one sheet of paper then we have to resort to two side printed sheets. Printing and scanning of such sheets is obviously costlier than single sided sheets. Read more about Duplex OMR Sheets.
Carbonless Sheets or Two copy sheets: These sheets are a good alternative when the examination body wants to provide a copy of OMR sheet to the candidate for transparency in evaluation process and cross evaluation by the candidate. The answer key of such examinations is published on the website, through which the candidate can compare the sheet that he has and calculate his own marks. In case there is a discrepancy the candidate can report to the examination body within a given period of time. The final result is declared after this reporting time. Click here to know more about carbonless sheets.
Additional facilities related to OMR sheet printing
Holograms for highest security: Addmen provides sheets with holograms to avoid any chances of copying or replacing of OMR sheets.
Numbering & Barcoding: Usually it is preferred to print barcodes or numbers at two places on the sheet in case one print gets disturbed or destroyed the other one can be read. This provides 100% accuracy and efficiency in barcode reading.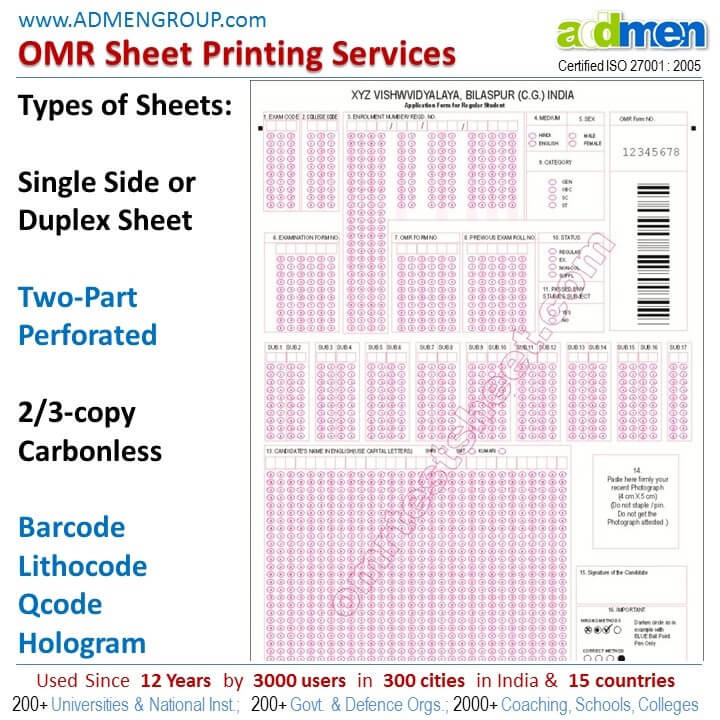 Read more:
Recruitment Solutions
Online Application and Admit Card Generation

Recruitment Test Checking & Result Processing