Question and Answer Shuffling Software by Making Multiple Sets of Jumbled up Question Papers
The question paper generator software by Addmen is extremely useful for the teaching staff of schools, colleges and other educational institutes. Most teachers consider creating question papers as one of the most difficult tasks. They must ensure that the question paper is a balance of easy, average, difficult, and very difficult questions. They also have to make sure that one question does not repeatedly appear in all papers. Here is where the test paper generator software earns brownie points.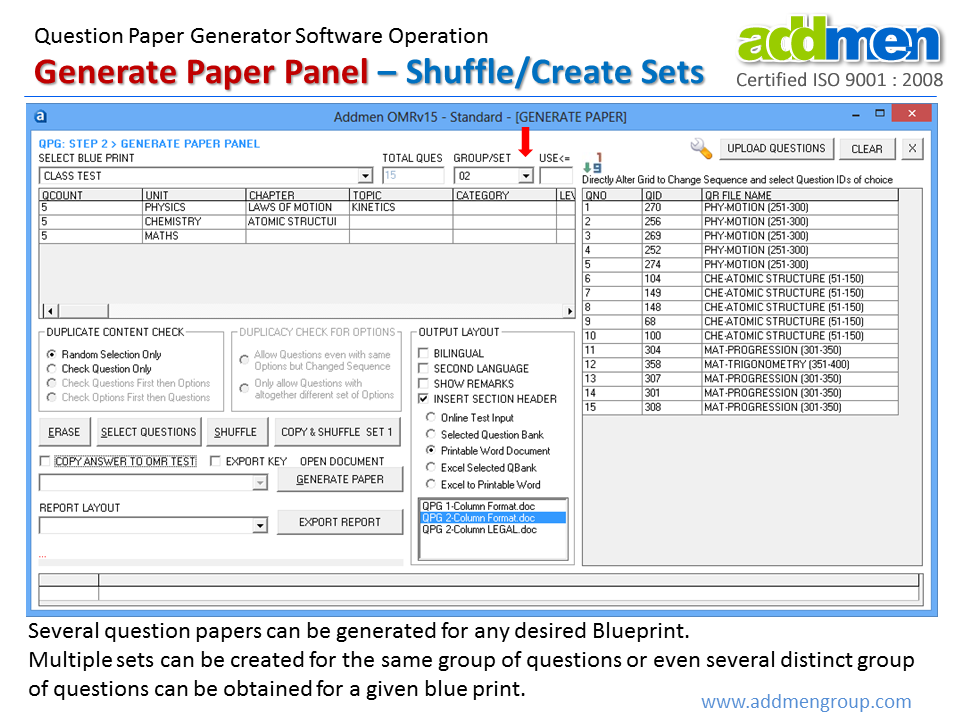 Why Use Question Shuffling Software ?
Many institutes face a problem of cheating during examinations among the students. This is more so when the examination is objective or MCQ based. The best way of preventing the problem is by shuffling the question paper. In that sense, Addmen question paper generator software is one of the best question paper shuffling software.
How Does Question Paper Shuffling Work?
This software works in four stages. Along with the ability of generating question papers, it also has a question bank where you can store as many questions as you want.

As the questions are already stored in the software, you do not have to type in the questions again.

You just have to create a blue print of the desired question paper and then generate the question paper.

One of the major features of this software is the ability of shuffling the questions to create different question papers.
At the fourth stage of the question paper generation process, the software chooses the questions as per the blueprint that you created.

Once you have chosen the questions and the layout, you can click on Generate Paper button and the question paper can be viewed in Word format along with its answer key.

If you want to make multiple sets of the question paper, you just have to return to the panel and choose Group or Set No. 2 and do the same process.

The same questions would be shuffled and presented in the Word document. The questions would be the same but the order would be different.

You can do the same thing for more sets of the question papers.



The question paper generator software by Addmen also acts as a question shuffling software, making it possible to create different sets of the same question paper extremely easy.
Read more:
Introduction & Overview

FAQs on QPG Operation

Operation QPG Software