OMR Form Reader
OMR Form Reader is an optical mark recognition software used for collecting data from various types of OMR based forms and applications, including feedback forms, survey questionnaires, election ballots etc. The software allows for conveniently collecting and storing data from college applications, attendance sheets, hospital admission papers, banking applications etc, and checklists used for procurement, inventory control, and process control audits.
The Design Module
The form processing software comes with a designer module, which you can use to create all types of single-sided or double-sided OMR forms. Research institutions thrive on this software to acquire and store essential OMR data for critical analysis and future reference.
A simple, user-friendly interface in manual mode makes quick and easy edits possible.

Ability to introduce barcodes and various types of image blocks is a feature available in standard versions of the form scanning software.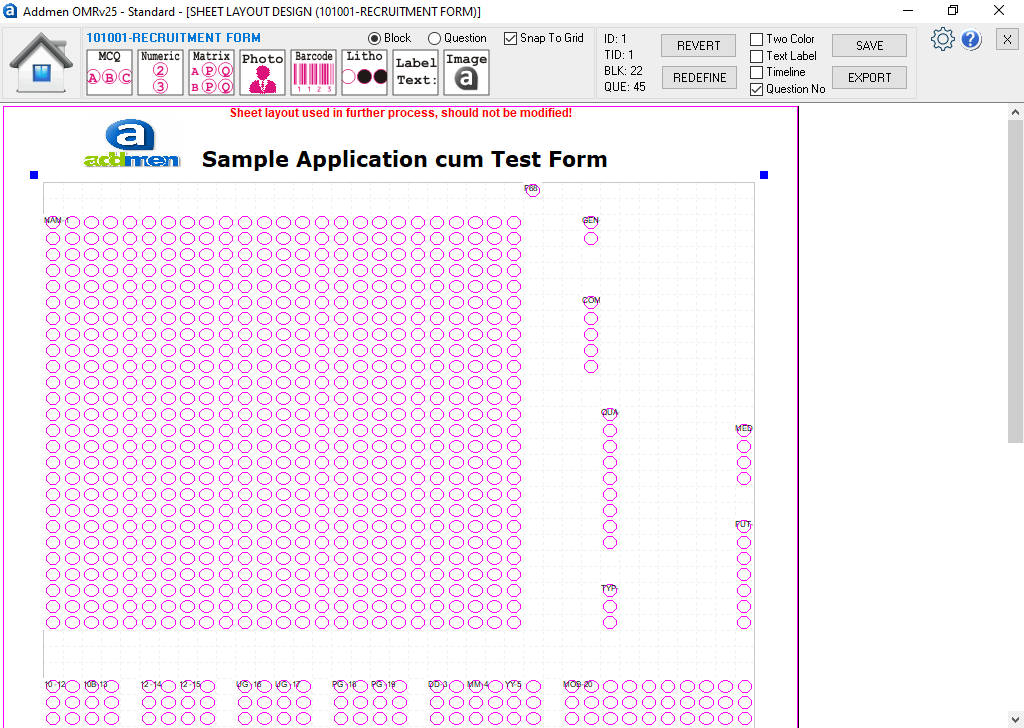 The Reader Module
The filled/completed OMR forms that are collected for processing are first passed through a regular ADF scanner, and the scans are saved in BMP, TIF formats.
Any tilting or skewing that occurs while scanning the forms are automatically rectified.

No need for rescanning the sheets, as the rate of form rejection is brought down to zero.
The reader module has critical customizations that allow for seamless detection of objects/blocks in the scanned forms. Image capturing allows handwritten sections like signatures, addresses etc to be captured and processed. Advanced versions of the OMR reader software come with additional features that also include:
ICR for detection of handwritten numbers

OCR for capturing printed numbers

The software has the ability to read barcodes. So there is no need to use a separate barcode reader or such other software
Unlike the answer sheet checker, the form reader facilitates image capturing, an important feature that is not included in the standard version of the sheet reading software.
Captured images (photographs or image blocks on forms) can be given a unique ID and can be stored anywhere in your computer.

Viewing and interpreting the results is simple and straightforward. The processed data output can be exported in various formats, including Excel, XML, Access, etc.

Captured images are displayed in separate columns in Excel reports.

Accuracy in performance and output is achieved on a consistent basis throughout the form reading cycle, from data collection and correlation to statistical analysis and report generation.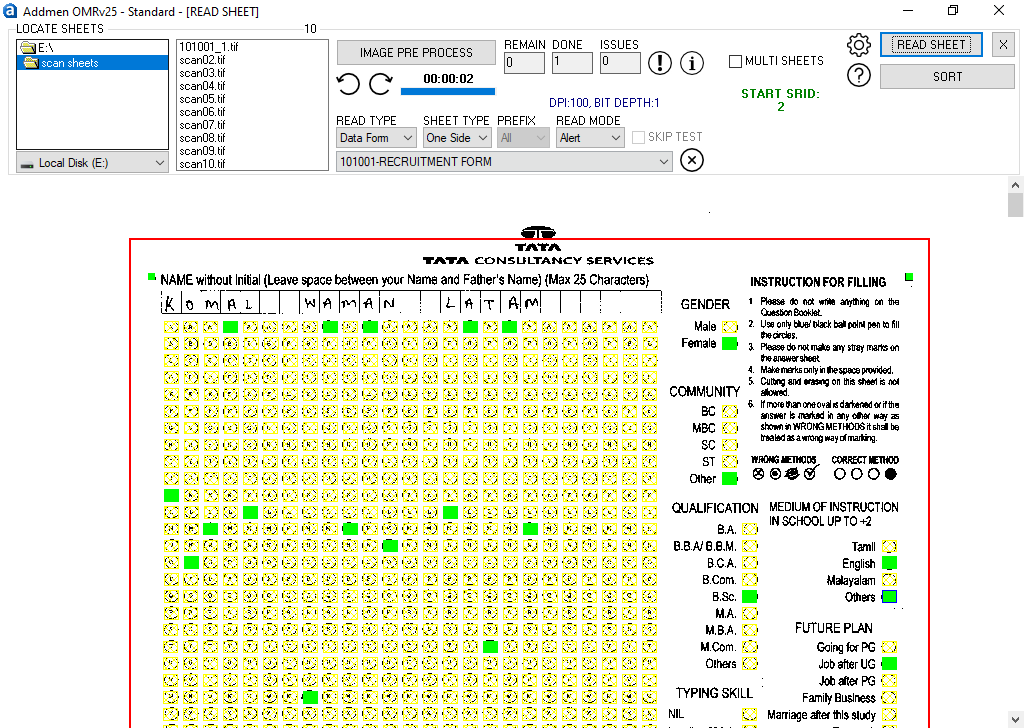 Read more:
Related Links: