Online Test Result on Website
The MCQ exam checking software is capable of processing the exam results into various types of reports. The reports can be edited if required. The results can be displayed in statistical, as well as graphical formats. Printing the results in paper may require lots of paper and will be time consuming. Also, handling the reports poses its own difficulties. So the best way to display the results is by displaying them online.
Working of Online Test Results
You can avail the online test result feature from Addmen by purchase or on a rental basis. Below are some of the benefits of the online test result feature.
Display the Online Test Result as link on your website. Clicking on the link will take the students to the server space where the results are saved.

Addmen Group, the name of our company, will not appear anywhere on the result page; students will only see your institute name and logo.

Student can access the web link using their unique roll number.

Results are displayed in a tabular format, and students can also view the results in graphical formats too. You also have the option of including the actual scanned images of the student's OMR sheet and the PDF file of the answer key.

Lock the access to these results with password protection.
Online Result Page
Each student's results page contains essential information, like candidate name, ID, parents' name, batch, name and date of the test, subject-wise marks, overall scores, online solution, etc.
You can even upload the results for subjective exams; only the scores have to be typed in manually. But in this case, you can't enter the scores as per each question.
With this software, you can ensure the privacy of your students. Every student can only see his/her result and no one else's. To see the results, the student has to first click on the link to the website. They would be taken to a page where they have to enter their roll number and click ok. Once this is done, all the reports in tabular and graphical reports would be available on the page. In case of OMR tests, the student's OMR sheet can also be displayed on this page.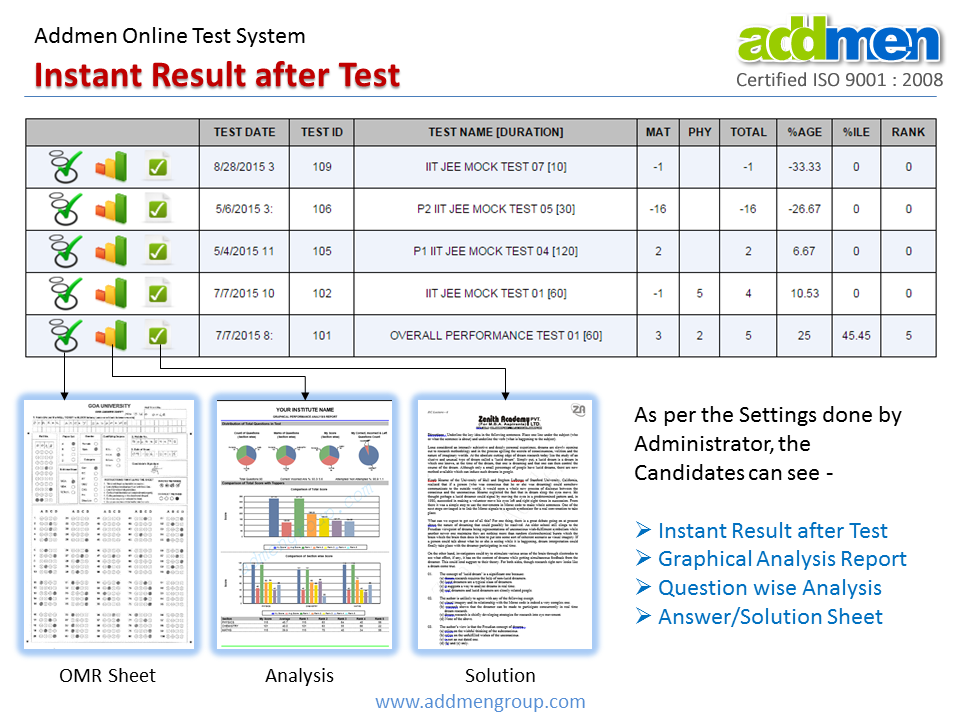 Read more:
About OMR Sheets

OMR Design & Print

OMR Sheet Scanning

OMR Reading & Checking

Result & Output