Online Test Result Android
Smart phones are used more commonly by everyone in this world than computers nowadays. Almost every individual in this world carries a smart phone. It has changed the aspect of communication to the next level. The most popular Mobile Operating System is the Android. With the Addmen OMR software, you can now give the students the opportunity to view their results on their Android phones. Simply download the edu-App on your smart phone and use it to share and view results instantly.
Sending the OMR results of the candidates through SMS is a simple process with the application features we have now a days. However, it cannot be called as an economic method, when we consider the amount of money involved with this process. But using the android application edu-App, we can develop real time connectivity between the institute, the students, and their parents, in a cost-effective manner.
It is possible to make the results go live using the application as soon as the results are declared in the institution after OMR answer sheet result counting machine process is completed.

Students can get the results as an alert or a notification on the home screen of the smart phone.

The application can also be used to deliver information about the fee dues remainders, payment receipt conformation and history of payments, etc.

Scheduled tests, time tables, and course progress are other details that can be fed into application.

Any information that is related to academic activities will be displayed in the application.

This application can be used in smart phone and well as tablets, based on Android and windows operating system.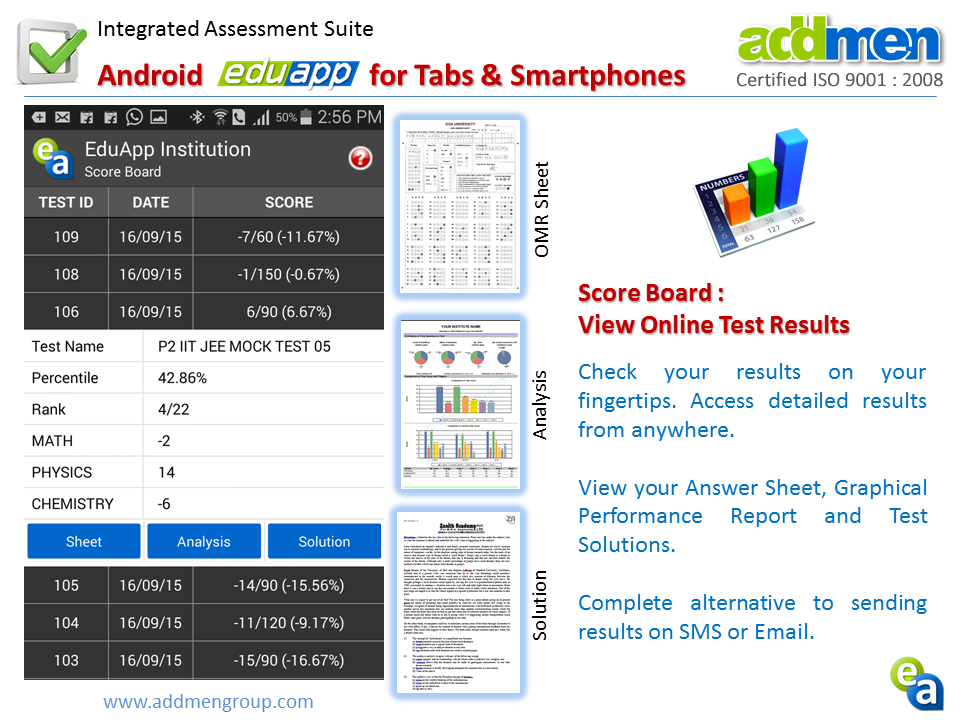 Read more:
About OMR Sheets

OMR Design & Print

OMR Sheet Scanning

OMR Reading & Checking

Result & Output